THE SETTING at the Mayfair Hotel in Vesterbro was as English as its name. In a cosy armchair by the fire sits Dic Edwards, award-winning Welsh playwright. He is in town for the Danish premiere of one of his earliest plays, Casanova Undone.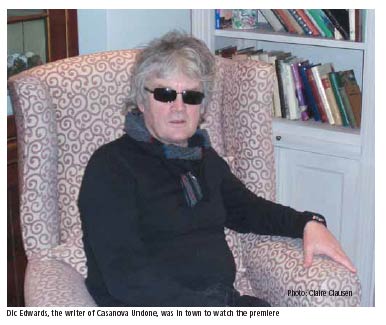 In fact, Edwards has won several awards for his plays, one in Scotland for Casanova Undone, and another in Wales for 'Franco's Bastard', a play, as the title suggests, about General Franco. The epitome of a modern dramatist, Edwards is dressed in black, down to his very dark glasses. His unruly grey hair is fashionably unkempt; he has a soft, lilting voice, a slow smile and an unassuming manner. Edwards is a Welshman hailing from Cardiff and his name is to be found amongst the many acclaimed Welsh literary figures.
He has worked with many well-known theatre directors. 'The first director I ever worked with at the Royal Court Theatre was Danny Boyle, who has just won an Oscar for Slumdog Millionaire – and well deserved too,' says Edwards. 'I love film but I have never wanted to write film scripts or novels – my work is for the theatre,' explains Edwards, who has continued writing plays all his life.
'I studied English and philosophy at university and while working on an MA in modern theatre I began to write plays,' says Edwards, whose work also includes poetry, short stories and several musicals. He wrote a modern version of The Beggar's Opera, called 'The Beggar's New Clothes', and followed it up with another musical piece called 'Juniper Tree', performed first at the Broomhill International Opera Festival in Kent. More recently, 'Utah Blue', a musical about the double-murderer, Gary Gilmore was staged in Australia.
'Since my rather shaky start as a writer much of my work has been commissioned, so I often have tight deadlines. Even so, a play can sometimes take as much as seven years to complete, as was the case with Casanova Undone.'
Described as a destroyer of myths, Edwards calls his writing the 'theatre of the evicted', all 20 of his plays bearing witness to this theme. 'So many of the people I write about are ultimately driven by pure vanity,' he explains. Not all his works are political, but most have historical or real-life characters whose actions have had far-reaching consequences. 'I am interested more in debate than realism,' writes Edwards, in the introduction to Casanova Undone. 'Wittgenstein's Daughter is probably my favourite play – possibly because it is the most original of all my themes,' he confesses.
Recently he has been writer in residence at a number of universities and is currently employed at The University of Wales Lampeter teaching creative writing, which he is thoroughly enjoying. 'The energy and enthusiasm of the students keeps me alive and encouraged,' he says.
'These days I have discovered that I just love writing short stories. They require such tight, controlled writing,' he explains.
Inspired by fellow Welsh literary giant, Dylan Thomas, Dic Edwards has written a play called "Over Milk Wood", about travels in Catalonia. His most recent work, a play called 'Solitude', has had four successful readings in Wales and will shortly go into production.
Edwards is delighted that a play of his is being performed for the first time in Denmark. He has great faith in That Theatre Company and felt immediately that he could trust Ian Burns and his company with the play. 'It was like meeting a brother when I met Ian – he's a lovely bloke,' says Edwards.
He hopes That Theatre Company's production will delight Copenhagen audiences as it has done in Britain.