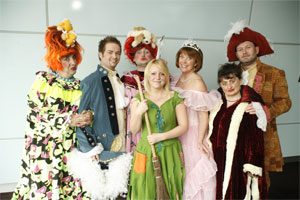 The 2006 panto auditions will take place at The Riverfront on Saturday 16 September between 10am – 4pm with registration at 9.30am.

The Riverfront is looking for children who live and go to school in the Newport City Council area to take part in Cinderella. Produced in collaboration with the Hiss and Boo Company, and starring Isla St Clair and Brian Hibbard, this high-quality, professional pantomime will run for a month from the 7th December, and feature two teams of children in fun routines.

The Riverfront is keen to see children's 'personality' as well as their singing/dancing/acting skills: it will not be enough just to be a good dancer!

20 children are needed (plus reserves) to form two troupes of 8-10 who will play alternate days during the run. A list of performances and rehearsal commitments will be available on the day.

We would ask parents to note that a child being selected will make significant demands on their time and it will require permission for the children to be released from school for some rehearsals and performances.

For more information please contact The Riverfront Box Office on 01633 656679.


web site:

e-mail:
Tuesday, September 05, 2006
Older news stories have been carefully archived.
2006 | 2005 | 2004 | 2003 | 2002 | 2001 | 2000 | 1999