A sure-fire hit for Welsh audiences
AMAZING GRACE
Wales Theatre Company , Aberystwyth Arts Centre , November 1, 2006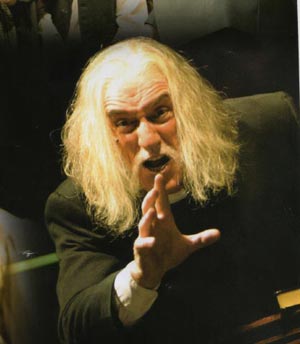 After a riproaring run in the Aberystwyth Arts Centre in July and August with his production of 'Fiddler on the Roof', Michael Bogdanov returns in triumph, this time with his Wales Theatre Company as part of the touring run of "Amazing Grace" - Christian singer-songwriter Mal Pope's 'First Great Welsh Musical', bringing with them spectacle, religious fervour, personal introspection and, above all, fantastic, crowd-pleasing entertainment.

Telling the story of former miner Evan Roberts' role in the great Christian Revival of 1904 in Wales, and his eventual ruin at the hands of overwork and gutter-press insinuations, this production found itself telling a tale of high morals, higher ambitions and great personal faith in an increasingly secular age, but doing so through adrenaline-pumping songs and high-energy performances, even in those scenes with little movement.

Mal Pope's lyrics and score, the execution of which he oversaw onstage with his multi-talented band of musicians, drew on his own past work as well as some of the more soaring and beautiful Welsh hymn-tunes to complement original work which stood perfectly in the setting he had established. The opening number – 'O Iesu Mawr' rose sweepingly over the stage from a well-hidden company who were slowly lit to support Roberts' initial calls to God from his bed, and from there built to a roaring end to the first act in the form of 'Bryn Calfaria' – an old and intensely beautiful, moving and affecting Welsh hymn tune, expertly arranged by Pope for inclusion. The sound was well-mixed and generally well-managed, the live band melding with the voices of the company to startling effect, though on occasion even those members of the cast with radio microphones were lost to the energy of the musicians.

The play took place on a magnificent multi-purpose set designed by Sean Crowley and Edward Thomas. Through backdrops, gauzes, balconies, double-doorways, a slate-effect flooring and a layout conducive to the very slick set-changes which were skilfully effected, the set became a coal-mine, a bedroom, a street, any number of chapels and even a circus. The only problem one could see is that this is perhaps a set designed for a much bigger stage than that afforded by the sizeable, but not cavernous and always intimate Theatr y Werin in Aberystwyth Arts Centre, and one could anticipate there perhaps being quite a cosy amount of wing and rear-stage space available.

This reservation aside, the set was visible through extremely effective lighting which was by turns highly realistic at moments of very visceral humanity and occasionally strikingly daring and bold for some of the big production numbers.

In this environment, complemented by appropriate, and sometimes appropriately garish costumes designed by renowned couturier David Emanuel, some radiant performances were allowed to come into their own. Richard Munday, playing Evan Roberts was, while not the strongest singer ever to take a musical lead, a galvanising, believable and eminently well-suited casting choice. One believed his journey through celestial heights and crushingly human lows. His voice rang clearly through the auditorium and brought with it that heart-swelling spirit of Revival.

Similarly Elin Wyn Jones, as his Nightingale, Annie. Jones embodied her role admirably, switching between lovestruck innocent, gospel poster-child and fearsome guardian with grace and ease.

Set against these was, primarily, the character of embittered, though qualified, pastor the Reverend Peter Price, played by a ferociously top-form Peter Karrie. This role allowed him to exercise his stupefyingly immense vocal range – both spoken and sung – and gave him the opportunity to portray a character who is both a fiery condemner of Roberts' success and also a decidedly broken character within. Those who see the show will not readily forget his breathtakingly powerful number 'You Never Threw a Party for Me'. His one error – that of heading for a non-existent exit and having to retrace his steps, was something that could be easily forgiven in light of his staggering performance.

Also giving a generally competent and engaging performance was Jon Cecil, who played W.T. Stead, the London journalist who tracked Roberts' progress and reported on every stage of his journey. Providing a link that was generally impartial, despite, on occasion, his reportage, he proved to be a warm, watchable anchor to the show from his appearance part-way through Act One.

The company as a whole gelled beautifully – the family atmosphere present in the Roberts family extending outwards into the village and beyond, so that even in times of crisis, despair and doubt, such as seen at the end of the first half and later on in the tale of Roberts' journey to England, there were ties that bound one character to the other, regardless of circumstance, and one felt that every member of the cast looked after the interests of everyone else. The dance numbers, which were beautifully choreographed to maximum effect, particularly in 'I Like Sundays' and 'It's Happening Here' did not seem rigid in their discipline, but rather an extension of the collegiality felt throughout the show.

Though it could be argued that the Christian message underpinning the bare facts of the story was, at times, verging on being shoe-horned in to reinforce its strength, and though certainly some language used was a touch clunky and the finale an unabashed crowd-stirrer, right up to the point where the house-lights rose to include the audience in the side-stepping, hand-clapping number 'Warm Wind', the standing ovation which greeted the close of the show was testament to how effective Michael Bogdanov and Mal Pope are at, respectively, directing and writing/scoring a show which appeals to the best sentiments and emotions of all comers, and is a sure-fire hit for Welsh audiences.

The tour continues to the Swansea Grand and the Wales Millennium Centre, as well as other venues across Wales. Details unavailable to the authors at the time of writing but available through the Wales Theatre Company and principality-wide press.


Reviewed by: Paddy Cooper and James Ellington
This review has been read 5252 times
There are 4 other reviews of productions with this title in our database: