Television, sex and laughter!
See Through
Claire Gaydon , The Other Room , February-21-19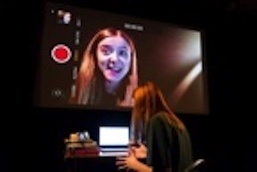 For most of the highly entertaining hour the performer, Claire Gaydon is able to captivate and charm us sitting with her back towards us. She sits at her computer and projects everything on to a big screen. The screen tells us she is from Lincoln and that her mother is into amdram. We meet her mother later and we see where Claire's twinkle in her eye comes from. When the teenage Claire announced she wanted to train for the stage, her mother was very supportive and drove her daughter down to London for the audition. She got in and we are able to appreciate the fruits of her learning
tonight. I think she reveals to us a lot more then she found out at Drama School, or maybe not!

Not for her the trials of writing letters to theatres for jobs; she decides she's going to make it as a vlogger. She introduces us to the world of YouTube and on-screen vloggers. They are all around the world, some with followers in millions. She has a very friendly presence and asks us to help her set up her own site. For a while things go well and mum pops up again to help her celebrate her reaching a hundred followers.

Things get much more graphic when she makes her confession tapes. She reveals some extraordinary experiences. There is always a hint of satire from this very engaging and very funny performer. She retains a broad smile however 'colourful' her descriptions become.

Watching her, one does wonder what merit, if any, there is in all this on-line confession, of which she is one small part. Her mum begins to worry about where things are going and sends messages that come up on the screen but they are ignored - Gaydon is in full flow. Her self-confessions, though at times extraordinary revealing are expressed with a delight and are always highly entertaining. An artist with a very winning way with her audience, with this cleverly devised piece of theatre.




Reviewed by: Michael Kelligan
This review has been read 271 times