Scholar & Maker of Monumental Theatre That Welded Classicism to Modernity
In Memory
Mike Pearson , Culture of Wales , May 26, 2022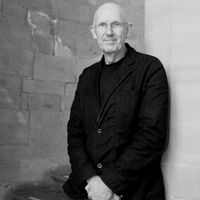 "We gathered in the Brecon Beacons on a sunny August evening in 2010 to see the oldest surviving play in Western drama. No-one who was there will ever forget Mike Pearson's National Theatre Wales' production."

Those are the lines with which Michael Billington opened his book of 2015, a heavyweight 450 pages, on theatre's history. My own review of "the Persians" had the heading "Simply Nothing Like It." There was nothing like it and there is nothing like it.

I wrote of the chorus: "In their agony of chest-beating, rage and lament Mike Pearson raises their combined voice, movement and gesture into a realm of sublime Dionysiac theatricality."

I ended with "Mynydd Epynt's geological substance is Old Red Sandstone. As a formation it is particularly rich in layering and sedimentation. Iron runs throughout. For theatre's premier explorer of performance archaeologies that makes as good a metaphor as might be for Mike Pearson's dazzling production."

"The Persians" was one part, in a late career crescendo, of a trilogy where modernity and the classics melded. It was followed by "Coriolan/us" at Saint Athan in the summer of 2014 and "the Iliad" at Ffwrnes, Llanelli. The trilogy was produced by National Theatre Wales.

Mike Pearson was an undergraduate at Cardiff 1968-71. After a BA in Archaeology he did postgraduate work 1971-73 and received a Masters in Education. Over the next 25 years he worked with Transitions Trust community arts project (1971-72), RAT Theatre; and as a co-director of Cardiff Laboratory Theatre (1973-80). The remarkable Brith Gof Theatre Company lived between 1981-97. The output was considerable. The company's "Y Gododdin" is generally valued as its high point and more broadly Wales' greatest piece of theatre of its decade.

After the Arts Council of Wales' support for Brith Gof ended Mike Pearson joined the Department of Theatre, Film and Television Studies in Aberystwyth in its period of remarkable expansion under Ioan Williams. In 1999 he became Professor of Performance Studies until 2014.

Publications were numerous. The PhD subject was titled "Convergences of Performance and Archaeology'. He was an Honorary Fellow of Falmouth University and a Leverhulme Major Research Fellow 2012-2014. He was a visiting scholar at Rutgers University of New Jersey in 2002, at Johannes Goethe University of Frankfurt in 2003 and 2006 and Roskilde University, Denmark in 2014.

Keynote addresses included the International Federation for Theatre Research world congress, Harvard University in the same year and the Prague Quadrennial. He was a member of the AHRC peer-review panel for Drama, Dance and Performing Arts from 2005-2007 and of the AHRC Landscape and Environment programme national steering group 2007-2009. He was on the editorial boards of Cultural Geographies About Performance (University of Sydney, Australia), Performance Matters (Simon Fraser University, Canada) and the Palgrave Macmillan Performing Landscapes series

That was the public man. Our paths passed a few times. The month of "the Persians" was August, school holiday time, and I was only able to make it to the very last performance. The director was standing at the edge as we disassembled and returned to the coaches. It was all over. Words were redundant; the theatre was the thing. I recall his manner in the few words we exchanged; it was of a deep modesty.

He was an unmistakable figure in Aberystwyth. Often to be seen at the tables in the Arts Centre he would be deep in discussion with students. In 2014 he was at a public event at Y Drwm in the, National Library. An hour-long documentary about "Y Gododdin" was shown, the first viewing since a broadcast by HTV in 1990. The Brith Gof archive remains to be explored and made available to a general readership.

My words at the time described what I watched as "a foundation block of physical theatre and a key moment in theatre-making in Wales."

As for the production:

"A close-up camera conveys the intense Dionysiac impact that it makes on its audience. Car bonnets are torn off for makeshift shields and drums. Fire blazes from oil drums. In Italian Polverici an overnight storm has created a small lake in which the physical performers soak themselves. Margaret Ames makes an unrehearsed flying leap at a car. The performances are driven by the percussion of Test Dept who hammer out multiple rhythms from pieces of industrial detritus.

Mike Pearson's post-film discussion provides some further illuminating points of context. "Y Gododdin" was in fact just one work in a series by the company that was inspired by Goya's "Disasters of War". He confesses that the demands of the work had him exhausted after ten minutes. Margaret Ames recalls the Pearson concept of "berserking", a process that in fact comprised only four instructions. After that it was a matter of intense attention to the cues...Pearson recalls that a moment of rehearsal with Marc Rees left him with a dislocated finger."

Chris Durnall was a fellow director who knew him. These are his words:

"Theatre by definition is intended to stimulate, intrigue, provoke and consequently to entertain. It is often mistaken for a form of light entertainment (which has its place). When working on a new piece we look to create something original, something life affirming that shows the power theatre can hold. No one did this better than Mike Pearson.

"When I first came to Cardiff in the early eighties as a drama student I was deeply affected by the work being presented, chiefly at Chapter but also at various indoor and outdoor locations. It seemed to me to be just what I was looking for. A theatre of possibilities that had a lifelong effect upon me.

"Companies like Brith Gof, Cardiff Lab, Paupers Carnival, The Magdalena Project and Moving Being changed the way I thought about performance. At the centre of this was Mike Pearson, forever challenging, confounding and sometimes frustrating with a magnificent body of work that continued for the next forty years.

"He proved a catalyst for so many performers who have gone forward to create extraordinary work worldwide, both as a director and teacher. He was the kindest and most knowledgeable of men. His palette of work is vast. He collaborated with some of the very best with humility. He was driven by passion. I will miss our conversations about free jazz which he loved.

"It feels like the end of an era"

Reviewed by: Adam Somerset
This review has been read 144 times
There are 30 other reviews of productions with this title in our database: