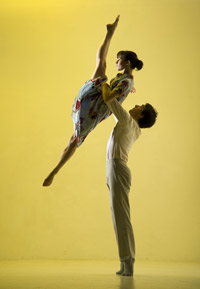 The Richard Alston Dance Company returns to Wales for an exclusive Welsh performance at Theatr Brycheiniog, Brecon, on Thursday 21 May with a superb triple bill including two of Alston's most exhilarating works.

BLOW OVER (2008) is performed to Philip Glass's Songs From Liquid Days, with lyrics by Paul Simon and Suzanne Vega. This is music of mesmerizing accumulative power and the dancers have to fly to keep up, in great leaping arcs of energy.

Alston's iconic MOVEMENTS FROM PETRUSHKA (1994) is performed to Stravinsky's own piano arrangement of his ballet music. Alston has revived the work for 2009, the 100th anniversary of the founding of Diaghilev's Ballets Russes, who commissioned the original ballet Petrushka.

Also included is TO DANCE AND SKYLARK, a new work from Martin Lawrance, performed to two of Bach's enduringly popular Brandenberg Concertos.

Richard Alston Dance Company is at Theatr Brycheiniog on Thursday 21 May at 7.45pm. Tickets cost £14.50 (£12.50 concs) and are available from the box office on 01874 611622 or online at www.theatrbrycheiniog.co.uk.

Theatr Brycheiniog
web site: www.theatrbrycheiniog.co.uk

e-mail:
Wednesday, May 13, 2009
Older news stories have been carefully archived.
2006 | 2005 | 2004 | 2003 | 2002 | 2001 | 2000 | 1999