A dynamic and vital show
At Wales Theatre Company
Wales Theatre Company- Amazing Grace , Wales Millennium Centre , November 17, 2006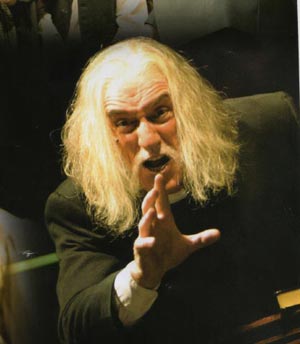 WALES THEATRE COMPANY WAS THE PRODUCTION AND TOURING COMPANY OF MICHAEL BOGDANOV (1938-2017). THE BIGGEST SUCCESS WAS THE MUSICAL "AMAZING GRACE" REVIEWED HERE.

THE LIFE OF MICHAEL BOGDANOV IS REMEMBERED IN THE SEQUENCE "IN MEMORY" APRIL 2017.

THE BOOKS THAT MICHAEL BOGDANOV WROTE ON SHAKESPEARE ARE REVIEWED IN THE SEQUENCE "THEATRE DIRECTOR BOOK" MAY 2017.


The reviews below for Wales Theatre Company as follows:

"Amazing Grace" by Mal Pope: : 01 April 2005: 17 November, 2006: 06 April 2005: 01 November 2006

"A Child's Christmas In Wales": 20 November 2014: 20 October 2006

"Contender": 26 May 2007: 30 April 2007

"Cymbeline": 23 October 2004: 17 October 2004: 15 October 2004: 7 October 2004

"Elwyn": 27 April 2012

"Hamlet": 28 October 2005

"Macbeth Kill Bill Shakespeare" : 16 October 2007

"Merchant of Venice": 23 October 2004

"The Merry Wives of Windsor": 05 July 2002

"Much Ado About Nothing": 18 July 2004: 16 July 2004

"The Thorn Birds" :03 May 2009: 27 April 2009: : 26 October 2006

"Romeo and Juliet": 27 September 2008

"The Servant of Two Masters" : 24 October 2007: 09 October 2007: 08 October 2007

"Twelfth Night": 23 October 2004

" Under Milk Wood" : 11 October 2003: 21 October 2003: 29 January 2004



Review of "Amazing Grace"

It's big it's bold with great music, great song and great dance; all the qualities of first class music theatre and it's made right here in Wales with a magnificent company of mainly Wales-based actors, and didn't they do well. Peter Karrie, as the Rev. Peter Price who took great delight in his part in the downfall of the leading character, Evan Roberts, along with his very moving and powerful voice brings all the charisma and stage presence to the role that confirms his position as the 'The World's most popular Phantom' in Andrew Lloyd Webber's Phantom Of The Opera. Alone on the stage he tugs at our heart-strings and almost steals the show with his powerful and emotional rendering of 'You Never Threw A Party For me'

But his is by no means the only outstanding performance. Richard Munday as Evan Roberts, bemused by the powers he feels that God has put into him, sings with both strength and sensitivity. Rising from his bed where he has received his divine visitation he opens the show singing 'Why Me?' and quickly captivates the whole audience. Shân Cothi as his sister Mary is able to show us a very deep concern and genuine love for her brother and uses her dramatic soprano voice to engage us in her 'Jealousy' when she feels that one of Evan's young female followers, Annie, an appealing and delicate performance from Elin Wyn Lewis, is getting too close to him.

The crystal clear singing is further enhanced by yet another fine Welsh voice of the ever-popular soprano Margaret Williams giving a neat and subtly understated performance as Evan's Mother. Evan's miner father is also someone who is not at all too sure about this 'God' business, well played by Gary Davis whose operatic voice expands the warm resonating singing that is a key feature of this production. The other singing miners are led by Kevin Johns, happily moonlighting from his day-job, presenting the Breakfast Show for Swansea Sound, he gives an authoritative performance as Will Hay, another who, at the beginning, is doubtful about the force of Evans conviction.

The London newspapers quickly became interested in the Great Welsh Revival and sent their correspondent W T Stead down to Evan's home village of Lougher to cover the developing story. Jon Cecil stands alone under a gas street lamp, and with just the right touch of cynicism, we hear his reports through song as he acts as a narrator, appearing from time to time, summing up the events as they move forward to the dramatic and unexpected ending to this story. The final song 'Warm Wind' swept over the audience and on this Cardiff opening night they rose to their feet and gave this dedicated and committed cast a well deserved, resounding standing ovation.

One of artistic director, Michael Bogdanov's greatest assets is his sense of theatricality. This is a dynamic and vital show and most certainly does have the makings of the first great Welsh Musical. Mal Pope's music is perfectly suited to the atmospheric plot and drives the show along at just the right pace. However Bogdanov has us looking through a window on to the happenings and can't get us quite as involved with the story, as much as we need to be. It may be that Evan Robert is an impossible character to play. We don't get to really see that intense sense of religious fever. We need to feel from the drama of the action, an overwhelming presence of something very special happening spreading from the inside of the man and permeating all who stand before him. In the scene set inside the chapel at Moriah Roberts calls for an 'Amen' but his appeal is not generated by real godly passion, the resulting conversions fail to convince and the real truth at the centre of the story is weakened. It is undoubtedly a very entertaining piece of music theatre but without this its potential greatness is undermined.

Reviewed by: Michael Kelligan
This review has been read 28225 times
There are 31 other reviews of productions with this title in our database: