Classy Revival Still Full of Meaning
Art
Black Rat Productions & Blackwood Miners' Institute , Aberystwyth Arts Centre , October-31-19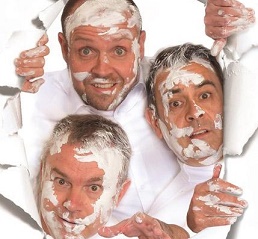 Meanings mutate. Interpretations of art swivel, sometimes full-tilt. Plays that look good on the page face a searchlight of scrutiny when exposed where they matter, on a stage. Black Rat last year revived Orton to reveal that he is not lasting well. Their regular autumn tour with regular co-producer Blackwood Miners' Institute has chosen Yasmina Reza's "Art" for 2019. It is the play's 25th anniversary this year; from the evidence of Richard Tunley's production it is holding up well.

It is holding up well because it is about something that matters. Men in Britain report an average of seven friends. The figure is deceptive because the statistical bell curve is wide. A sizeable proportion reports lives that are without close friends.

Reza has made her play about a taut grouping of three men. Bad writing for theatre clogs itself with reminiscence, back-story, explanation. Reza writes for the stage. These men are simply given as friends, and she shows that friendship is brittle. If there were an equivalent in cinema it would be Alexander Payne's "Sideways."

"It has resonance" asserts Gareth John Bale's debonair, polo-necked, patrician Serge of his 100,000-Euro purchase. Richard Tunley's Marc scrutinises the all-white canvas and his cheeks bulge, his eyebrows arch. Serge denies it is even white. Keiron Self's vulnerable Yvan, with his self-confessed drift of a life behind him, looks hard and sees yellow and grey, tinges of ochre.

Art does has resonance. In 2019 the United Kingdom is a land where friendships have sundered. Our friends are sustained, says the play, by our ideas of who they are. A small act in itself, a stroke of a pencil on June 23rd 2016, has turned friendships to estrangement.

Serge has an antidote to discord. "Read Seneca!" he asserts. A weighty copy of the book is tussled over and used to fell Yvan. His attempt at bridging the gap between the others is damned. "You're an amoeba" he is told. If he has qualities of tolerance it is "because he couldn't care less."

The status of men, between men, is affected by the women they choose. Reza has created an ending of some ingenuity. Two men are in struggle. The object is ownership. It is not physical ownership of land or property but a tussle for intellectual and aesthetic supremacy. The ending neatly resolves the conflict. "Art" has the most Parisian of settings, Cartesian and Rohmer-esque in tone.

"Can we try to steer clear of pathos?" is Serge's rejoinder to his friend's propensity to cry. In the end Descartes is disposed of. "Nothing essential of the world has even been born of rational argument." Yvan is the most sensitive of the three and proves the wisest. That is the point. Argument is the wellspring of creativity, new resolution but its roots are in emotion.

Unsurprisingly, with this cast "Art" comes with class acting. That it tours with a class look to it is also unsurprising. Serge's cool, grey-toned Parisian flat with its furniture placed in purest symmetry is the work of designer Sean Crowley and is lit by Robin Bainbridge. The creative team includes emerging director Emrys Barnes, Simon Baylis on sound design, stage managers Charlie Brookman and Lee Gilbert. The Torch has built the set.

"Art" is on a 17-venue tour. With 13 down it continues to Ffwrnes, the Borough Theatre, Brycheiniog and ends Royal Welsh College of Music & Drama 7th-9th November.
Reviewed by: Adam Somerset
This review has been read 201 times
There are 1 other reviews of productions with this title in our database: