Art Is Better Off Being Artistic
Summing It Up
The Value of Forthrightness , Culture of Wales , December 4, 2020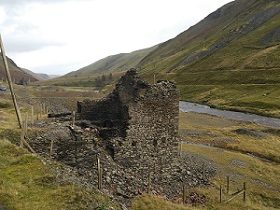 This series of retrospectives started, January below, with water, geography and migration. They observed a disaggregated geography high in civic value but low in state awareness. The illustration shows the centre of Wales. A century ago it was the home for hundreds of people with a cultural life of song and performance. Its only sound now is the water of the upper Ystwyth in flow.

At the beginning of 2020 it was startling how low was public awareness of the political responsibility held in Cardiff Bay. The articles below continued to a paradox; the governing party made high claims on cultural expenditure in general with a lower interest in culture in particular.

Public art as art can be seen and heard for their effect. If one event comes to mind it was the tour of "Wythnos Yng Nghymru Fydd" in 2017. On its tour date in Aberystwyth 35 singers on stage performed to an audience of 312 with not an empty seat. The performance was full-blooded, the reception tangibly emotional.

It was an event in itself. It was an event worth the doing. If it had a health effect it was that all social co-presence exerts an effect; one that is emotionally charged still more so. It has been a lesson harshly reinforced in 2020.

But as for other effects the public sphere offers statements that are generalised and without evidence.

"The arts have a significant role to play in supporting...businesses to drive prosperity" is one.

Prosperity is driven by, among other things, capital investment, innovation, infrastructure. The writers of the sentence simply have not thought. They have not looked at the world as it is. Prosperity drives a richness of culture, not the reverse.

Happily, the civic make-up of Wales has bodies who look at the nation empirically. Evidence from the Bevan Foundation to the CWLLC can be read in the record of the Senedd.

"There is limited research that suggests that improving participation in the arts can be part of the solution to poverty, although on its own it has little effect."

"It is less clear whether being in the audience for cultural events has the same benefits as being involved in its production. Whilst an effective way of developing social networks, strong social networks as of themselves do not overcome the challenges faced by families living in poverty."

The Culture Committee reported the methodological weakness of eliciting feedback at the time and place of an art event.

"It was suggested that quantitative data - such as visitors to an attraction and the number of people entering employment - do not give a sufficient assessment of the outcomes of work in this area...the use of qualitative data, such as questionnaires which ask participants to assess any changes they experience in confidence and social skills. It was also noted that such changes can appear over a longer time period, increasing the difficulty of gathering this evidence."

The instrumentalist approach to publicly subsidised culture relies on an epistemological fallacy. It is experience not knowledge, tacit mental life that may not be made declarative. The fallacy is sustained because membership of the inner circles places high value on adherence to conformity. But conformity, the aversion to difference, precludes innovation and creativity.

The Culture Committee reported on the deficiencies of top-down non-artistic objectives.

"The imposition of an outcomes approach tended to discourage rather than encourage creative engagement". In the way of unintended consequences "the ways in which you're looking at the outcomes can actually have an impact itself and… stifle the kind of changes that you're actually wanting"...

"Organisations felt that the Fusion outcomes were unrealistic and restrictive, and organisers "were expected to show how brilliantly they'd done in ways that were not possible", such as showing people gaining employment or apprenticeships after only six months."

Evidence from the Royal Welsh College of Music and Drama described the difficulties with evaluating interventions:

"The problem that we've got is that much of that evidence is from fairly small data sets, and the evidence of the value of these disciplines… is often one that is about indirect benefits that ultimately lead towards improved lives and employment. You're not necessarily saying, 'This is the one and only factor that makes all the difference'. And I think it would be a mistake for the arts to try and start to suggest those things. It's part of a bigger picture."

The Princes Trust Cymru described difficulties with evaluating activities:

"Measuring the impact of culture is very complex. There are a number of other factors that can have an impact on the change. And then perhaps measuring figures in themselves isn't enough, and we need to measure what we can measure, but also think about how we describe more qualitative, soft, evidence in the way that we work."

The Arts Council Council of Wales :

"We do have… case studies that we could refer to where people have been involved in some of those projects and programmes who have then gone… either back into education or on to further training, volunteering or into employment. I think they're few and far between, and I don't think that's what engagement in the arts is fundamentally about."

The National Theatre of Scotland has toured the world and played in Shaftesbury Avenue in London. The theatre of Wales has not. It has not done so because there is a lack of will to do so.

The difference is attention. Attention to the real is always what matters. Given that art does not do much else than be artistic that might as well be its primary aim and its yardstick for evaluation.
Reviewed by: Adam Somerset
This review has been read 251 times
There are 33 other reviews of productions with this title in our database: