New Writing Company Back on Track with Afghanistan Play
At the Sherman
Sherman Cymru- The Sanger , Chapter Cardiff , June 10, 2011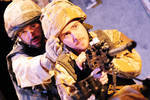 Over the Spring holiday week literary folk gather, as always, in the sun in the Wye Valley in Hay. A thousand feet above, the wind on the Black Mountains is chillier. A cohort of new recruits from Sennybridge is doing an induction course in basic navigation. Conversation with the military, infantry and NCO's alike, has a quality of reserve to it. They are in a place the rest of us are not. The why of it cannot be spoken of.

Foster Marks' "the Sanger" has none of this reserve to it. For its taut hour his script puts on stage a hot, enclosed watching-post in Helmand uncompromisingly, unreservedly. All credit to Sherman Cymru for grabbing this script and fast-tracking it to performance. The last nine months have not been great for new writing. "The Sanger", crafted, ambitious, accomplished, is the real thing.

A squad of four joke, muse, cuff one another, gaze at pin-ups, wave a sex toy around. Death, sex, money are prevalent. A stint in Helmand earns two hundred a month more than working in a pizzeria at home, but the army throws in food for free. What is the difference, they wonder, between a hermaphrodite and a Thai lady-boy? A machine gun is fired warningly at an old man and his son who walk carelessly in no man's land. Noses are picked. Gareth Pierce's stretched Danny drops his pants and trousers to waft a little air around his privates. Treats of rare food are cherished to offset the mix of stress and tedium. Saleem, an Afghan who has done time in the Marriott in Dubai, visits for banter and radio eavesdropping.

Under Amy Hodge's direction the jargon-packed dialogue comes full and fast. It is not all understandable but it has the smack of an expletive-rich authenticity. The soldiers know that however many Taliban are killed their replacements are without limit. There is grudging acknowledgement almost that they are little different from the foreigners in their land. But Tom Cullen's estuary-accented Laze is given some lines of loathing for those who burn down schools for girls. He is recipient of the Queen's shilling and is in no doubt the Queen too would find loathsome these haters of women.

Beneath the banter, the fear of sudden bereavement for wife and children, Foster Marks weaves in some skilful texture. Raw information from the front line is managed and massaged as it passes upwards into an end product that is always passably optimistic. The foreigners are blind as to who might be a Pashtun, who a Tadjik. "I am the f---king difference" says Dean Rehman's Saleem. The numbers of soldiery in Afghanistan are deficient. A task to secure a village that requires a battalion gets thirty to do the job.

Tom Cullen sings the whole of "Waltzing Matilda". The tone is more resigned, less bitter than when Shane McGowan sang it. Just as in public life no character in the play ever uses the word failure but a song about Gallipoli speaks. By coincidence of timing the night before the first performance of "the Sanger" BBC3 showed the first part of the documentary "Our War". It has a voice-over that is crude and slightly tendentious but is an unsettling and disturbing piece of work. But, as befits the title, no-one gets to call the campaign "a shower of shit" as do Foster Marks' front-liners.

The squad is completed by Aled Pedrick's Ben, a lifetime on in pained experience from his last role in "Deffro'r Gwanwyn." Huw Rees' Simmo exudes relaxed authority and a subtlety of acting that his Kyle of last year did not quite allow for.

Four months back I commented that "the Great Game", the Tricycle's twelve-play cycle about Afghanistan, had no contribution from Wales. "The Sanger" has the quality to join that group of plays. Where public debate is silent, theatre is able to speak and that is what "The Sanger" does.

The company has called this production "raw", two weeks and two days from first rehearsal to last performance, and a Bank Holiday in-between. The production has nothing raw to it in performance, design or direction. What matters about a new writing company is getting the stuff out. If "the Sanger" can be done on the kind of cost base it has achieved, it should be done again, and again.


Reviewed by: Adam Somerset
This review has been read 2531 times
There are 71 other reviews of productions with this title in our database: